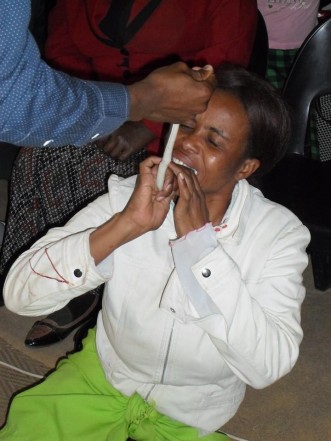 Who or what is churning out these false prophets (Yes I said it) and how are they able to convince people to part
icipate in such grossly cultish acts in the name of Christianity? I believe and state without reservation that this is the work of he that is mentioned in Revelation 12:9 as "

that old serpent, called the Devil, and Satan, which deceiveth the whole world

…" No wonder a snake was chosen out of all the creatures, Mnguni is glorifying the symbol of his master! Our Lord summed it all up when he lamented through the Prophet Hosea that "My people are destroyed for lack of knowledge." (Hosea 4:6)
It is tempting to reach a conclusive judgement that the followers of these cult leaders are greater nincompoops than the "prophets" themselves and deserve whatever comes their way because they should know better. It is a fact though, that in this world where people are looking for divine solutions to the many earthly problems that befall them, it is possible to be caught up in such situations if one is not well grounded in reading the scriptures. Biblical prophecy warns us that in the last days, false prophets and false will be many, some will perform great miracles and through them, the ancient serpent will mislead God's people just as he did in Eden (Jeremiah 14:14; Mark 13:22).
The only solution for the erstwhile Christian to survive these torrid times is to pray without ceasing and study the word of God carefully under the guidance of the Holy Spirit. Never rely solely on someone else's knowledge of the Bible. We need to read for ourselves! It is also of utmost importance for those who have read and understood the real word of God to evangelise and study the Bible with those that have not yet read for themselves. It is not a sign of unfaithfulness or lack of faith to cross check in the scriptures, what your pastor or priest preaches to you. Within the Bible lies the litmus test that will reveal the level of truth coming out of their mouths. Remember the Berean Jews who we are told in Acts 17 checked if the gospel of Paul and Silas was true? It is of utmost importance to do that without becoming overly sceptic of course.
I urge all truth loving believers of the Bible to take a stand against these evil men who are dragging the name of God in the mud. Let us stand up and allow God to use us to preach the true word of God. Nothing less is expected of us.
The Great Commission (Matthew 28: 16-20)
(Also in Mark 16:14-18)
Then the eleven disciples went away into Galilee, into a mountain where Jesus had appointed them. And when they saw him, they worshipped him: but some doubted. And Jesus came and spake unto them, saying, All power is given unto me in heaven and in earth. Go ye therefore, and teach all nations, baptizing them in the name of the Father, and of the Son, and of the Holy Ghost: Teaching them to observe all things whatsoever I have commanded you: and, lo, I am with you alway, even unto the end of the world. Amen.